This is going to be a year end round up. I will try to get to all the attacks that did not make a roundup earlier in the year. Get some coffee, this will be a long post.
11/23/2015
Sandusky Ohio
Here is item off a police scanner. A caller reported to Sandusky police that a pair of pit bulls were actively trying to rip through a door of the caller's home.

Picture it.
* * *
11/30/2015
Painesville Ohio
Lake County
An at-large pit bull mix entered a Painesville schoolyard while students were outside on the playground. The animal circled the 60 students before targeting on one little girl, grabbing her by the arm. A horrified volunteer aide rushed to the child, attempting to shield the little girl with her own body. Per FoxNews8
Zalar rushed over to help, wrapped her arms around Leah and wedged her leg between the girl and the dog.
The little girl required 26 stitches in her arm to close her wounds. The aide, Laura Zalar, was treated for multiple puncture woulds, deep muscle strain, and bruising.
The three year old pit bull dog had escaped from the property of the owner who lived near the school. The owner is being charged with dangerous dog at large. The pit bull was held by the Lake County dog warden for a 10 day quarantine.

Interesting timing on this. Just hours later and a few miles away Shaker Heights pit bull advocates returned to Shaker Heights City Council chambers with empty leashes in their hands to protest a pit bull ban being considered by that community. I bet a breed ban looks real good to the parents of Painesville schoolchildren.
I hope the Painesville City Council recognizes Laura Zalar for her courageous action to save a local child. I also hope Shaker Heights City Council recognizes the danger of allowing unregulated pit bulls in the community.
* * *
12/16/2015
Lebanon Ohio
Warren County
An 84 year old woman was attacked inside her own home, by a pit bull. Two pit bulls followed the woman's caregiver, who had been walking the woman's Pekingese. One of the pit bulls had already attacked the woman's caregiver and the woman's Pekingese on the front porch. The 84 year old opened her door to assist the caregiver and the little dog when the pit bull entered the house, attacked the elderly home owner and killed the little dog. Click here for video.
The dogs were declared dangerous dogs, the neighbor/pit bull owner will have the opportunity to protest the designation. Why would you?
* * *
12/4/2015
Dayton Ohio
Montgomery County
The Montgomery County Animal Resource Center gained custody of two more pit bulls, plus a dog of unspecified breed, just what they needed. A "responsible pit bull owner" left her four year old daughter alone in the care of the two "nanny dog" pups and another dog for an unspecified length of time. The mother was arrested on a misdemeanor child endangering charge when she returned home, the child was turned over to Montgomery County Children Services.
For video please click here and here.
* * *
12/7/2015
Akron Ohio
Summit County
Markee Turner, recidivist pit bull abuser, was
sentenced to 40 hours of community service at the Summit County animal shelter.
Turner was also sentenced to one year of probation and prohibited from owning or harboring animals for five years. Turner has been found in possession of starving pit bulls twice this year. Interestingly,
equipment used in conditioning dogs for the purpose of dog fighting was found in Turner's home in July
. Bet nobody suspected that.
Booking photo for Markee Turner. Another "responsible pit bull owner." Wouldn't mandatory neuter and spay for pit bulls, preventing the creation of dogs destined to suffer, be better than this?
* * *
12/6/2015
Toledo Ohio
Lucas County
The Toledo Blade rejoices that yet another test used to screen dogs for aggression prior to offering them to the public for placement has been scrapped. Pit bull advocacy has been chipping away at any screning test that pit bulls can't pass, claiming that the test is not predictive of aggression in the home. Dogs that are food guarders (aggressive around food) have been sent to rescues for "rehabilitation" (at taxpayer expense) prior to placement but now even that safety precaution is gone. Lucas County will continue to use the SAFER test, developed by the ASPCA, to screen dogs but
it should be noted that the ASPCA will no longer certify those who administer the test.
With the number of attacks by recently re-homed shelter dogs this year the ASPCA may be responding to potential liability issues by dropping their certification process. This quote from the announcement by the ASPCA "
We have found that while individuals conduct the assessment and demonstrate they can score correctly for their certification, they are not consistently assessing in that manner throughout the year."
The safety of the public is a very low priority here. This article comes from the Toledo Blade so we have the required quote from Jean Keating.
* * *
12/4/2015
Columbus Ohio
Franklin County
A known aggressive pit bull held at the Franklin county shelter has received the classic Facebook "please find someone to take this creature" plea. King is reported to be just a sweetheart with people but is admittedly animal aggressive. The warning from shelter staff is that King is NOT safe to take to the park but they hope that just the right rescue or new owner will step up for King. Want a known aggressive dog? Who wouldn't?
King could be just what you are looking for, the neighbors will love him.
* * *
11/26/2015
Cincinnati Ohio
The good people of Cincinnati have not forgotten Zainabou Drame and her family. The Drame Family was treated to an elegant Thanksgiving dinner at Boi Na Braza Brazilian Steakhouse. The family won a 7.5 million dollar settlement but do not expect to see any of it. Zainabou's medical bills are over a million dollars and growing.
Zainabou Drame is incredibly brave, and surrounded by the positive energy of her loving family.
* * *
10/9/2015
Batavia Ohio
Clermont County
A newly adopted pit bull attacked the special needs daughter of the new owner
. Bruno the pit bull was euthanized but the owner has concerns about the safety of her neighbors. While Bruno is no longer a problem, Bruno's parents are still in the community and presumably still pumping out puppies, they are said to be just as aggressive as Bruno. Neighbors state that they have witnessed multiple attacks in the area in the last year. Part of the problem is the Clermont County shelter which is under new management. Dog attacks prior to 2015 are no longer part of their records.
Mandatory neuter and spay would be very helpful here.
* * *
10/23/2015
Dayton Ohio
Montgomery County
"Responsible pit bull owners" Ronald and Mary Kincer called in a stray dog complaint on a dog called Lazarus. The dog died of severe malnutrition and dehydration a few days after pick up by animal control. An investigation revealed that the Kincers were not concerned about a stray, they were calling in on their OWN DOG. The Kincers have been charged with, among other charges, knowingly committing an act of cruelty against a companion animal.
There is video at
this link
, take a good look at this poor dog. Wouldn't mandatory neuter and spay be better than this? Dogs not conceived do not suffer. The neuter and spay surgery would be free to pit bull owners. PetSmart Charities, Best Friends, the Animal Farm Foundation, or the Petco Foundation will make grants for this purpose. Oh, I forgot,
pit bull owners turn this screaming deal down because it is a breed specific offer.
* * *
10/16/2015
Toldeo Ohio
Lucas County
As if Toledo needed any more pit bull promotion,
a parking lot party to raise awareness for pit bulls was scheduled during Pit Bull Awareness Month.
Those attending the event were encouraged to bring their own dogs along to meet pit bulls. Good idea?
The event sponsor, the Pet Bull project has
11 pit bulls available at this time
.
Lucas County Animal Care and Control has a total of 28 available dogs,
despite the whimsical breed IDs given, at least 26 of these dogs are pit bulls or pit mixes.
The Lucas County Pit Crew
has 28 pit bulls available for adoption. Does anybody see any lack of awareness for pit bulls in Lucas County?
* * *
9/17/2015
Avon Lake Ohio
Lorain County
Pit bull owner David Golas took the easy way out and pleaded no contest in Avon Lake Municipal Court to two charges of allowing his pit bulls to run at large. Golas's pit bulls killed a Shih Tzu and bit the owner of the Shih Tzu as he attempted to protect his pet. Perry Pascarella described the August 10th attack "
These two large dogs came out of nowhere and attacked Bella," he said in a recent interview. "It was horrible. I kicked them and kicked them, but they would not let her go. Each dog had part of Bella in its mouth. I dropped to my knees and started punching the dogs as hard as I could, but they ignored me. I grabbed one around the throat, but it was like wrapping my hands around a steel pipe.
Golas' lawyer, Timothy Fitzgerald, said the no contest plea was made to put and end to the "isolated incident." He said Golas has no problem living up to the rules pertaining to dangerous dogs.
"Golas has been following those rules all along, like responsible pet owners," he said.
Bella
Here are my thoughts on this. The death of someone else's pet and the injury to his neighbor was not an "isolated incident" that Golas should just put behind him. If Golas had been living up to the rules, as other actually responsible dog owners do, Bella would be alive and her owner would be uninjured. Avon Lake would not have passed a new law to deal with irresponsible dog owners and vicious dogs.
The Pascarellas have filed a lawsuit against Golas and his wife. Per the Morning Journal "
The lawsuit stated that Melinda Golas had signed a contract that gave her a notice that Sandy was a dangerous dog. The lawsuit also stated that Sandy cannot roam or be alone with children younger than 10. On a date prior to Aug. 10, the Golas family knew that their gate did not close or lock properly, the lawsuit claims."
This was not the first incident involving the Golas pit bulls. It was reported that in early 2014 Golas was walking his dogs when they bowled over a 5 year old boy, causing him to cry. The little boy's own dog ran to the child to protect him. Golas released his pit bulls, allowing them to attack the child's dog, pinning it to the ground, biting its neck and drawing blood. At this point Mr. Golas attempted to restrain his pit bulls.
Mr. Golas's pit bulls have been declared dangerous
and must be confined per Ohio law.
Save us all from "responsible pit bull owners."
* * *
10/12/2015
New Philadelphia Ohio
Tuscarawas County
Vivian VanCamp reported that she got up early, hearing her own dog barking. She looked out her window and saw what appeared to be a pit bull and a dead kitten. She tried to shoo the dog away but it came up to her house and slammed into her storm door in an attempt to get at her own dog, still in the house. She reported that she saw a second dog, it looked similar to the first. Later she saw the dogs kill another one of her two month old kittens. Ms. VanCamp was afraid to step out of her own home and was unable to allow her own dog out in her yard. By the time the county dog warden arrived to investigate the pit bulls were gone.
Six kittens were killed and two more are missing.
Ms. VanCamp wants to know who owns these dogs, she wants that owner to be aware of exactly what the dogs did. Very reasonable. Mark Rogo, an apparent pit bull apologist, following the comment pattern of Bob Cronk, commented on this story. Spelling and grammar are foreign to pit bull activists.
Mark Rogo
Rank

635
You can keep trying but your finally losing the battle. How many other breeds have done the same thing don't hear about those you hipakrets."
Mr. Rogo, boldly, has no sympathy for the kittens or the owner but acknowledges that the peaceful public is at a disadvantage. He apparently sees this as a good thing. "hipakrets"? Spell check, it is on your computer.
* * *
9/12/2015
Marysville Ohio
Union County
We have dealt with this particular pit bull in the past. The name is Zach, he was at the Franklin County Shelter as a rescue only. The back story, Zach hit the lottery and was adopted but returned in less than an hour after biting the new owner. Zach also lunged at the shelter veterinarian, two strikes, no longer available to the general public, the liability was too great. Steffen Baldwin of ACT Ohio and OABD stepped up to take Zach. The plan was to rehabilitate Zach and adopt him out to the public.
As of 9/12/2015 Zach was still available
(wonder why?) but anyone who might have been interested should have acted sooner. Just recently Baldwin announced to his Facebook followers that he would keep this gem of a pit bull himself.
* * *
9/2/2015
Brunswick Ohio
Medina Ohio
A Brunswick home owner reported that her Husky had been attacked and seriously injured by a pit bull.
The Husky owner had to hit the pit bull with a baseball bat to get it to release her dog.
The pit bull was harbored by a neighbor living two doors down. Nice neighbor.
* * *
8/28/2015
South Euclid Ohio
Cuyahoga County
A letter carrier was bitten by a pit bull as he was walking his route
. The letter carrier was bitten on his wrist and inner thigh but was able to grab the pit bull's collar and pin the thing to the ground until the owner could come out and drag his mauler back in the house. Records show that the same pit bull bit another letter carrier last summer. Has it be declared a dangerous dog yet? How many letter carriers is this pit bull allowed to bite before the Cuyahoga County dog warden takes action?
* * *
9/9/2015
Dayton Ohio
Montgomery County
Speaking of pit bull attacks on mailmen
, Dayton letter carrier Robert Mays was attacked as he approached a Drury street home. A pit bull named Kali jumped out a window to bite Mays on the hand and upper arm. The pit bull owner stated she was sleeping in the house with the windows open. The pit bull owner was cited and will have to appear in court.
* * *
6/18/2015
Oregon Ohio
Lucas County
And more attacks on letter carriers.
A postal worker was hospitalized after being bitten on the hand and on the leg by a pit bull mix.
* * *
8/31/2015
Piqua Ohio
Miami County
Piqua police responded to call reporting pit bulls chasing a pedestrian. The pedestrian attempted to chase the pit bulls away by throwing rocks at them. By the time police arrived the pit bulls were back inside the home of the owner. As the officer tried to speak with the pit bull owner through the screen door a white pit bull ran at the door "growling and snarling" causing the officer to believe the dog would come through the screen. The officer backed away from the residence but the genius pit bull owner opened the door allowing the pit bull to escape. Per the Daily Call "
"Unfortunately, the dog did not stop," The officer fired one shot at the dog when it was approximately two feet away from him.
* * *
4/19/2015
Dayton Ohio
Montgomery County
A Dayton woman with a CCW permit shot a pit bull attacking her dog
. The family had gone out for a late evening walk taking the baby and the dog when a stray pit bull approached and attacked Ashley Busby's dog. Busby did what she needed to do to protect her family then she called police to report the shooting. When police arrived the pit bull was found dead in the middle of the street. Per ABC22
Busby said she feels guilty she had to shoot a dog because she is an animal lover, "I'm a dog person. Like, I love dogs. I grew up around dogs."
I can't find fault with this story at all. Correct priorities. Well done. Nothing for Mark Kumpf to clean up.
* * *
4/16/2015
Mansfield Ohio
Richland County
The Richland County shelter is full of pit bulls but Mansfield, the largest city in the county, has a breed ban so pit bulls may not be placed in that city. The kennel supervisor Monique Hypes was quoted as saying "
the shelter has difficulty finding adopters for pit bulls because of their violent reputation."
but also went on to say
"They're wonderful dogs. That's not to say that all our dogs are perfect. There are some that have issues, but most are okay," said Hypes.
What?
Hypes pulled out the pit bull advocates "big guns" a Facebook post begging for adopters.
The post said, "Our shelter is maxed out on space for larger breed dogs and pitties!! We NEED your HELP!!"
It is not the fault of the public that the shelter is full of pit bulls, it is not the fault of the law that the shelter is full of pit bulls. If pit bull activists want to fix the problem they need to stop breeding pit bulls with no prospects of a permanent home. Problem solved,
Hypes with pit bull Bruno.
* * *
2/27/2015
Lancaster Ohio
Fairfield County
.
A seven year old boy was attacked by a pit bull that belonged to a family membe
r. Cole Robinson was flown to Nationwide Children's Hospital for surgery and treatment, he was listed in fair condition. The attack was unprovoked and the pit bull had no reported history of aggression. The dog was taken to the Fairfield County shelter.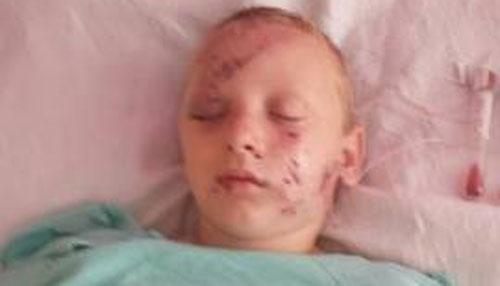 Cole Robinson
The dog was euthanized by request of the owner
.
* * *
5/16/2015
Dayton Ohio
Montgomery County
A positive pit bull story
. An armed intruder was stopped by the family pit bull and an armed and angry mother. Per WOIO "
Police arrived as the suspect, identified as 48-year-old David Allen Polk, was leaving. They found him bloody and bruised. He was handcuffed, when police said they found a knife in his front pants pocket, and then was taken to Grandview Hospital, the report stated.
Polk, who stands 6 feet, 4 inches and weighs 225 pounds, was booked into the Montgomery County Jail on suspicion of aggravated burglary, a first-degree felony. He is being held without bond awaiting arraignment on Monday, online jail records show.
Give credit where credit is due. This is a scary looking dude.
Booking photo for David Allen Polk.
* * *
6/2/2015
DAYTON Ohio
Montgomery County
A woman suffered a severe injury when a pit bull owned by a friend bit her face. The 23 year old victim states she was petting the dog and it was licking her face. She turned to look at the television and the dog attacked.
Thomas Hine, the pit bull owner admitted that this was the pit bulls second attack.
The same pit bull bit a neighbor in April and the dog had just come off quarantine. Hine told police he gave the dog away but the person who took the dog gave it back. Shocking, I know.
What will Mark Kumpf do with this two time biter? Here is the answer.
the owner was given a quarantine form.
Classic.
* * *
6/5/2015
Cincinnati Ohio
Hamilton County
Cincinnati police were called out to an apartment building for complaint of two pit bulls fighting in a hallway
. When police arrived they carried a shotgun into the building, smart. The pit bulls lost interest in fighting each other, one turned on police so they shot it. BOOM, done, dust off your hands and go home. Good work!
* * *
Enough for this post but we will be back later today or tomorrow with more Ohio pit bull insanity. I have searched the internet for a blog featuring attacks by Ohio Yorkies, or Ohio Poodles, or Ohio Beagles and found zip. I will continue the search.