12/9/2019
Lorain Ohio
Lorain County
A girl was bitten in the face by a pit bull mix reportedly "let out accidentally" by the pit bull owner's son.
The pit owner, responsibly, put the dog in the house and called 911 while providing first aid until first responders arrived.
The dog owner reported that her dog has bitten other dogs in the past but never a human. The child was transported to Mercy Health for treatment.
How does this happen? Why are known biters allowed to remain in communities? Nobody could see this coming?
Per the Morning Journal "
Police issued a summons to the owner and that the dog would need to be on a 10-day quarantine in her home.
* * *
12/11/2019
Cleveland Ohio
Cuyahoga County
A dog was euthanized after attacking a shelter worker AND a volunteer.
No breed was mentioned but as of 12/12/2019 the Cleveland Kennel offered 86 dogs for adoption and 83 of them are pit bulls so we can make a guess that the offending dog was a pit bull.
The volunteer suffered minor injuries, the shelter worker lost a finger which was recovered. Cleveland.com did not indicate that the finger was reattached. Both the shelter worker and the volunteer were transported to Metrohealth for treatment. The kennel was closed for the remainder of the day on Thursday while authorities investigated the attack.
The Cleveland Kennel
* * *
12/16/2019
Heath Ohio
Licking County
A 9-year-old child and two adults were critically injured after being attacked by 2 pit bulls inside a Heath Ohio residence
. Police received a call on a "dog bite" and found one of the two pit bulls still attached to a victim. Lethal force was used.
All three critically injured victims were hospitalized. Six puppies and the two dead pit bulls were taken by local animal control. Two uninjured children found in the home were taken to a local hospital for evaluation.
"In a 911 call recording, a woman who identified herself as Cathy Singledecker, told a dispatcher her two pitbulls had attacked "everybody in the house." The woman asked the dispatcher to send someone to come put the dogs down."
"
Heath Police Chief Dave Haren said officials found 'unlivable' conditions inside the home.
"The animals were not let outside, maybe at all. But definitely not regularly," Haren said. "The conditions in all areas of the house were unacceptable related to health and sanitary issues."
Heath police reports three children, including a 9-year-old with critical injuries, were barricaded inside the home to prevent further attacks. Police said lethal force was used against both dogs."
How does this even happen? This is not normal.
* * *
12/9/2019
Lorain Ohio
Lorain County
If you have some extra money here is a great place to send it. A Lorain Ohio child was with both her sisters and her mother. They were walking to their car when the 8-year-old was mauled by the neighbor's pit bull. I will not include a photo out of respect for the child's privacy but send some cash, please. Click
here for the gofundme page
.
* * *
2/27/2020
New Marshfield
Athens County
This is not a first in our state.
A judicial candidate hs been attacked by pit bulls while canvassing door-to-door.
Several years ago
Virginia Conlan Whitman
was similarly attacked while posting signs for her husband's re-election. Mrs. Whitman was seriously injured, required hospitalization, surgery and rehabilitation.
Candidate Rusty Rittenhouse was attacked by two pit bulls that escaped from a secluded home through a doggie door. Mr. Rittenhouse required stitches in his leg and in his hand.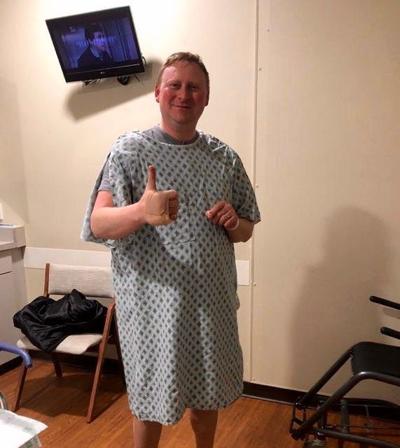 * * *
2/27/2020
Willoughby Ohio
Lake County
Two Willoughby police officers were bitten by a male pit bull mix they were trying to help
. The pit bull was running at large in very cold weather. Officers were attempting to get the animal into the back seat of the police cruiser. Both officers were treated for minor hand injuries at Lake West Medical Center.
Never approach a pit bull even if you think he might be cold. No good will come of it.
* * *
3/28/2020
Rocky River Ohio
Cuyahoga County
A resident of the peaceful community of Rocky River reported that s
he was out walking her dog and it was attacked by a neighbor's pit bull
. Her dog required surgery and Rocky River Animal Control is following up. In other news, no resident or pet was injured by an attacking Irish Setter or Pug.
* * *
4/23/2020
Galion Ohio
Crawford County
Per Crawford County Now.com. Moral of the story, take them off the streets when they bite someone the first time.
1:52 p.m.-A report of two pit bulls running loose in the 100 block of First Avenue. The dogs were picked up by the Crawford County Dog Warden as they bit someone last week.
* * *
5/2/2020
Mayfield Heights Ohio
Cuyahoga County
Per Cleveland.com,
Animals: West Miner Road
* * *
5/22/2020
Ohio Pit Bull Rescue Network
Location shown as simply "Ohio"
The Ohio Pit Bull Rescue Network has posted a request from a Florence Kentucky pit bull owner
.
"
I'm looking for any help/suggestions please! This is my male Pitt Rambo. I rescued him about 6 months ago. He turned a year in March. He was my snuggie buddy, he was very protective of me and loved me.. until last Friday evening. We were playing fetch in my backyard. After about the 3rd throw. He just stopped I seen something come over him.
The next thing I know. I'm in the fight of my life. He attacked me and seriously could have killed me. But I know how he was before this happened. He's at the shelter for 10 days. 5 days in already to see if rabies develop. Then they will put him down.
I'm so torn with emotions all I do is cry. And I know he can't come home. But as crazy as it sounds. I don't want him to die. I'm not sure if a professional trainer can help him. I'm a mess! Sorry for the long post and typos."
While we may be sympathetic to the plight of this pit bull owner, it is not difficult to see where this went wrong. The woman did what she thought would be a good deed and "rescued" a 6-month old-pit bull. Why did a 6-month-old pit bull require rescue? The most obvious guess would be aggression. This dog has turned on at just over a year of age, not unusual. The owner was attacked without provocation and acknowledges the danger here. The dog can't come home.
A professional trainer cannot train away DNA. Shamefully, shelters and rescues promote dogs with known aggression or an unknown history as pets to those who will suffer when DNA kicks in.
Stop promoting dangerous dogs. Do the right thing for public safety as painful as that might be.
* * *
5/6/2020
Mayfield Heights Ohio
Cuyahoga County
Two loose pit bulls chased after several people in the area near Oakville Road.
The pit bulls bit a woman who required transport to a medical facility for treatment. A man was bitten but uninjured.
The pit bulls also chased police officers, one officer was forced to fire his gun at them, striking the pit bull twice. The pit bull ran to its home (should make writing the citations easier). The other pit bull ran off. Those who live in the area should be VERY careful.
* * *
11/19/2019
Westlake Ohio
Cuyahoga County
How long do we think Lester will remain in the "sanctuary" before he is placed with someone who has no knowledge of the dog's history? Reported in the West Life News.
Owners fined; agree to move dog from Westlake neighborhood
The pitbull mix's owners, Edward and Amy Salim of Westlake, were fined $250 and placed on one year of probation as part of the agreement with Magistrate Marisa A. Marniella on Nov. 12.
The Salims entered into a plea agreement for having a dog at large and not keeping Lester under reasonable control. They are required to notify the local animal warden of Lester's location and comply with the state's dangerous-dog laws.
The Salims were in court because Lester had bitten Chelsea, a golden retriever, while she was walking with one of her owners near her home in the Riviera Lane neighborhood Sept. 11 and because of other biting incidents dating to the spring, police said.
Todd Rambasek, one of Chelsea's owners, said he is satisfied with the decision.
"I'm happy that he is out of the neighborhood," Rambasek said. "I'm happy that the dog wasn't put down and I'm happy that the dog's owners can go visit their dog if they choose."
Rambasek said he knows most people care about their pets and that people in the neighborhood are happy with the outcome.
"Now people will have the chance to heal from all of this," Rambasek said.
Chelsea is recovering from her wounds as well, he said.
Edward Salim said Thursday he understands the rationale behind the decision.
"People want their homes and families safe, including their pets," he said.
Salim said he doesn't think he'll visit Lester in Lorain County.
"He'll have a new home and family around him there," Salim said. "It should be good for all the people involved."
Salim said he was going to find a new home for Lester even before the court decision because of the tension the biting problems had caused.
Westlake Law Director Michael Maloney said the decision allows people to move on.
"I am glad we were able to reach some closure," Maloney said in a statement. "It was a dangerous situation. The case created tension in the neighborhood, which no one wants or needs, but the matter had to be addressed. The city was not going to wait for something even worse to happen. There are young children on the defendant's street. I do not have to explain what can happen with an aggressive dog this size running on the loose."
This was not Lester's first offense and he was not alone.
Lester's owners had two pit bulls and they were both involved in the attack upon Chelsea.
Here is the photo featured with this article.
This was not "discrimination" it was stone cold experience. Here is a link to a response by the owner of the Golden. She is much more tolerant than I would be but she makes a strong point for enforcement of dangerous dog laws.