Luke Westerman, formerly of Columbus Ohio, a relentless virtue signaling pit bull advocate now lives in El Paso Texas. Westerman, a self-reported venture capitalist and humanitarian left Ohio about a year ago for a position as the Executive Director of the Humane Society of El Paso. How could this position possibly pay enough to maintain Westerman's lifestyle?

Westerman indicated at the time that the move was based upon a desire for service to animals. A news report out of El Paso hints at other possible motives. Westerman has been indicted for 19 counts of theft and securities violations by an Ohio Grand Jury. Two of these charges have mandatory prison sentences of 3 to 11 years if he is found guilty. There are also charges that Westerman forged signatures. An arrest warrant has been issued. Local TV station KFOX14 Investigative Reporter Genevieve Curtis has been investigating for months. She did an interview with Westerman in December that appeared January 3, 2018. The interview is well worth watching.
He said he left a lucrative job working on Wall Street and heading a venture capital firm to rescue animals."
Turns out, that statement has some holes in it. Westerman did not leave Wall Street for humanitarian opportunities, he lost his Securities License in 2010. Westerman refused, on camera, to discuss his past. He stated that any discussion of his financial and legal problems "does not help animals." He went on to state that "political enemies" are responsible for the current charges and these political enemies have financial interests in harming animals. Pretty much the standard tactics of those charged with financial crimes. Westerman claimed that members of the board of directors of the Humane Society of El Paso were aware of the charges and that they fully supported him. Turns out that was not quite accurate either. Three members of the board quit, refusing to serve with him. The board has issued a statement that they will take appropriate action.

Take a few minutes to watch the interview. Pretty interesting body language here. Westerman leans forward while defending himself but removes his microphone while speaking and sets it on a chair. The reporter leans back, away from Westerman during the entire discussion. She is clearly not buying any of Westerman's excuses.
At this point, the legal system in Ohio will take over. The charges brought are very serious ones. It sort of looks like the move to El Paso was less about saving animals and more about fleeing Ohio in an effort to avoid prosecution. Didn't work.
Westerman during the interview. He sure looks uncomfortable. Fashion tip, a comb-over is never a good look.
Westerman in happier times.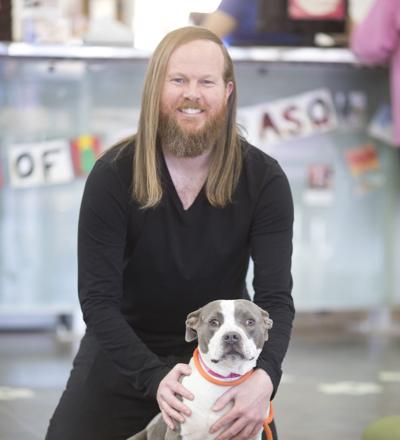 9/20/2018 Westerman in Ohio prior to his move to Texas.
Westerman and his associate Steffen Baldwin. Baldwin also left Ohio under "stressful circumstances." Baldwin now resides in California.
The shirts are kind of ironic. These two had lots of business failures, some individual, some together. Baldwin's ACTOhio failed, Save Them Dog Training never lost the taint of the death of the pit bull, Remy, while in Baldwin's custody. Baldwin and Westerman partnered on Columbus Pets Alive, that one never got off the ground. They partnered on Ohioans Against Breed Discrimination, a pit bull PAC. The goal of OABD was an amendment to the Ohio state constitution to prohibit BSL. The proud announcement was made by these two that they would raise 5 million dollars to put the issue on the ballot. Their gofundme page raised roughly $650 in six or seven months and was quietly taken down. OABD died quietly.
*

Update, and this is interesting. From KFOX 14 News.

Update - Westerman has been charged with swindling 10 Ohio residents out of a total of $700,000 over the last 10 years. Per KFOX 14 "
On Friday, Franklin County prosecutor Ron O'Brien explained the charges by saying between December 2010 and the present, Westerman allegedly "solicited over $700,000 from 10 Ohio citizens for investment purposes, later misrepresented the status of the purported investments in false account statements and used some funds for personal purposes rather than the expressed investment purpose. The cash withdrawals and use for personal expenses from investment funds exceeded $300,000."
Most of Westerman's charges were for securities fraud but two charges deal with accusations that he used money from an IRA for personal use. Per KFOX 14 "He also previously settled claims against him in which his clients accused him of forging their signatures on mutual funds.
* * *
A 74-year-old woman was bitten by a loose pit bull. Per the Brookpark Police blotter, police did not know how the pit bull escaped its yard but the owner was cited. Here is a clue, it's a pit bull. The victim drove herself to the hospital for treatment.

Brookpark bans pit bulls. Laws need to be enforced.
Dog at large per The west Life's Western Cuyahoga Police Blotter.
Fairview Park regulates pit bulls.
* * *
10/28/2018
Berea Ohio
Cuyahoga County
The pit bull belonged to a North Olmsted man who was walking the dog, along with a second pit bull, past the woman and her dogs. The pit bull that attacked slipped out of its collar and darted toward the woman and her dogs.
The woman picked up her dogs to protect them. The pit bull jumped toward the dogs and bit the woman's hand. She screamed for help.
Witnesses ran toward the woman to assist her. A driver opened his car door and allowed the woman and her dogs to enter his vehicle. The driver called 911. The pit bull's owner gained control of the pit bull.
Paramedics arrived to assess the woman's injury. She refused transport to a local hospital. The dog's owner said he had just adopted the pit bull from the Cleveland Animal Protective League. He said he would return the dog to the APL because of the incident."
Hope the shelter will not send this particular pit bull back out into the community. Unfortunately, shelters maintain a revolving door for pit bulls.
This one is from Jason Cooke's neighborhood. A pit bull, newly adopted from the Mahoning County Shelter, attacked a child inside a home. This child is a family member of the new owner. The child was treated at Akron Children's Hospital then transferred to the main hospital. Reportedly, the pit bull was shot by a family member but survived to be picked up by the county dog warden. While the article does not name the breed WKBN News includes a photo of the dog at the "Yes Fest" at the local high school. The photo shows a pit bull surrounded by students. What could go wrong? Exactly what did go wrong. Click to view the photo of the dog.
Pets are not safe from pit bull attack within the home of their owner. Thank about that for a minute. The pit bulls had a history of breaking down the fence and got inside the home through a rear door with a lever handle. Police and officials from the Franklin County shelter work on getting the pit bulls declared dangerous so the pit owners would be required to put a lock on the gate and post Dangerous Dogs" signs. Apparently, these pit bulls will be allowed to remain in the neighborhood. If that's not outrageous I don't know what is. THAT is the best they can do?
Here is a photo of the victims This breaks my heart.
This story turned up in the comments on the Gahanna Police Facebook page..
"
Our beagle was viciously attacked by a pit being fostered thru the I HAVE A DREAM rescue organization. My husband was walking her in our neighborhood on a leash and was across the street from the yard of the foster. The foster was a 60+ yr old man who walks with a cane - the pit is an 80+ lb 8 year old female with an unknown history. The rescue group pulled her from Franklin cty dog shelter. She got out of the yard because the guy left his garage door open. She charged across the street and latched onto Molly's neck (our pup). It took 4 ppl to get her off. All 4 were bit by the pit. Molly sustained multiple stitches in her neck/ throat and by her female parts, multiple deep puncture wounds, both eyes were injured and her front paws/legs were very sore. She came home from the vet with 1 antibiotic and 2 pain medications. It took her about a month to heal. My husband had to go to the ER. He got stitches in his fingers, a tetanus shot, rabies shot and rabies IG as recommended by the ER dr and our vet. The rescue group and its supporters could care less that this dog attacked. They didn't pay any of our medical or vet bills. We have had to get attorneys. And the pit is back up on their website and
PETFINDER.com
for adoption or fostering. The petfinder ad contains NO mention of the attack and the ad on their social media downplays it and implies my husband is to blame for being bit - apparently he didn't follow some unknown protocol to get this beast off our 25lb pup. The group and its supporters have accused us of having an agenda because we have taken legal action and they have not considered ANYTHING that we
The I Have A Dream Rescue has a poor public safety record. Here is a link to material on a 2014 attack on a foster by a pit from I have A Dream. The thing had a history of attacking fosters but the group did not tell new fosters. The group also had no insurance to cover the medical bills for the second attack.
Here is a link
. It is the last story in the post. Some thing never change, I Have A Dream is one of them. Ohio has laws regulating rescues, how is this one still in business?